Boosting DeFi Borrowing and Lending: Noone's Custom Wallet Development
13.10.2023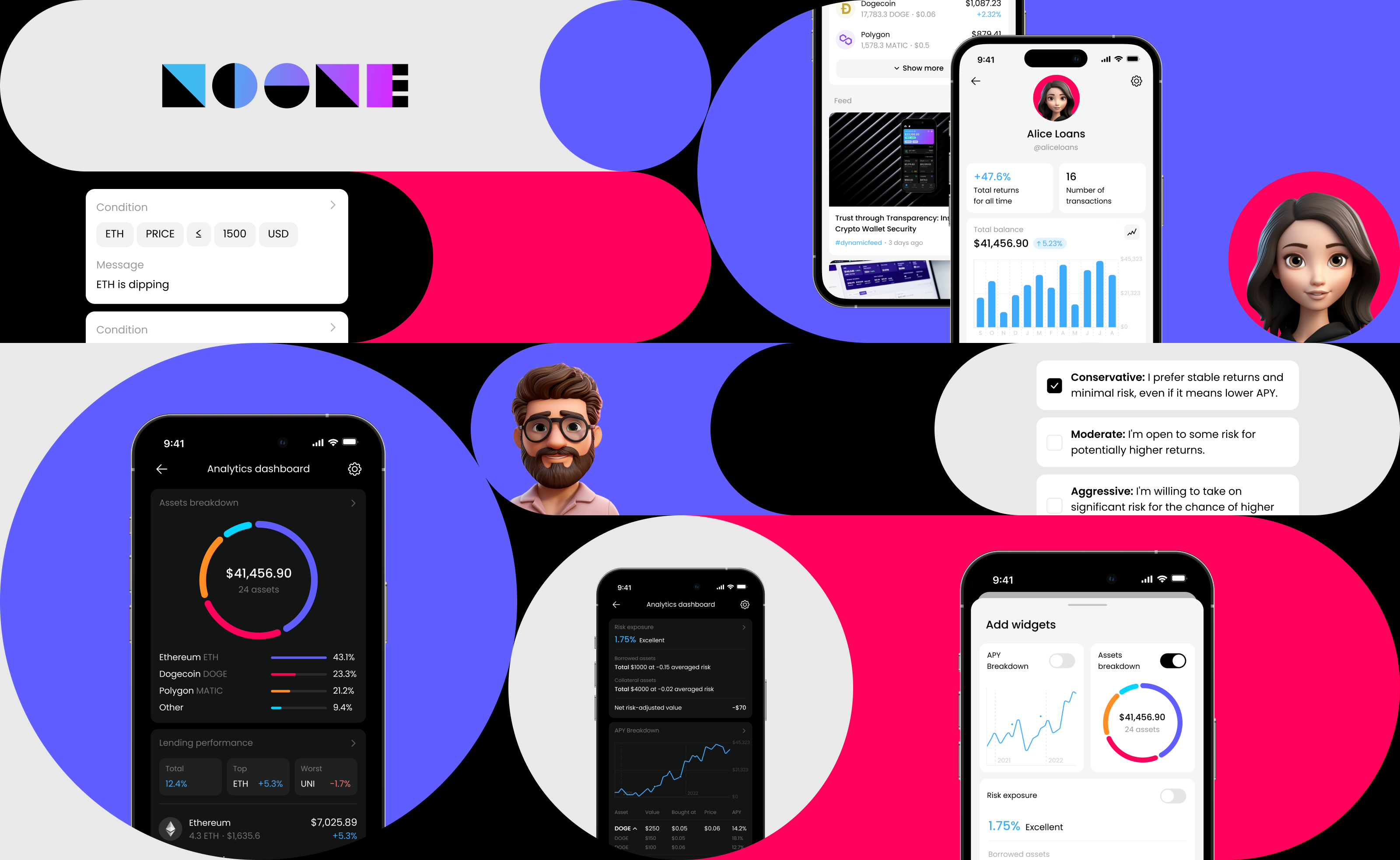 Unlocking the potential of cryptocurrency lending and investment can often feel like navigating a complex maze, especially when you're juggling between platforms. We aim to transform this experience by seamlessly integrating all of the essential features into one unified wallet. Featuring integrated risk ratings, real-time notifications, and more, Noone Wallet is on a mission to provide a custom crypto wallet solution tailored to the borrowing and lending needs of your clients.
Meet Your Users
Meet Alice, an experienced crypto investor with a diverse portfolio, and Bob, a trader who frequently seizes short-term trading opportunities. Both Alice and Bob have unique needs within the borrowing and lending ecosystem. Let's take a look at the customized features we can introduce to benefit your clients in this regard.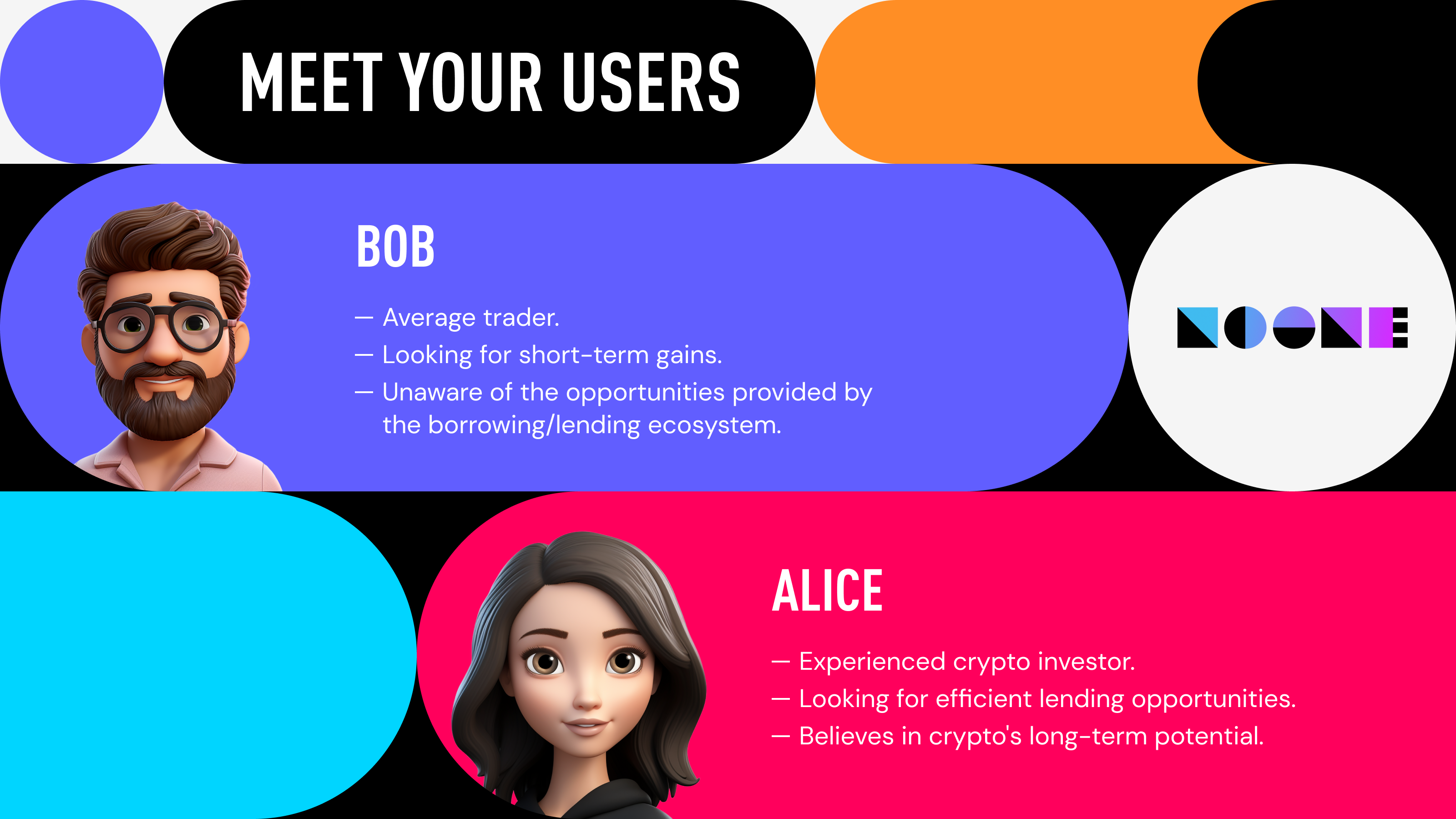 Introductory Quiz
In the world of cryptocurrency lending and investment, it's essential to understand your users' goals and risk tolerance to provide a personalized experience.
Bob's strategy involves depositing stablecoins into the pool as collateral for more volatile coins/tokens. When Bob completes the introductory quiz, he gains personalized insights and recommendations tailored to his current knowledge, risk tolerance, and financial objectives. This helps him make an informed decision about whether to back his loan with USDT, in which case his earnings or losses will be in USDT, or to use ETH or WBTC as collateral, resulting in gains or losses denominated in more or less ETH/WBTC, better aligning his investments with his preferences.
As for Alice, the introductory quiz empowers her to adjust her portfolio in line with her risk tolerance. While lending $10K in USDT may appear to be a safer option, it may not yield a high APY. Conversely, diversifying her lending portfolio with blue-chip crypto assets allows her to better align with her risk tolerance and potentially achieve a higher APY.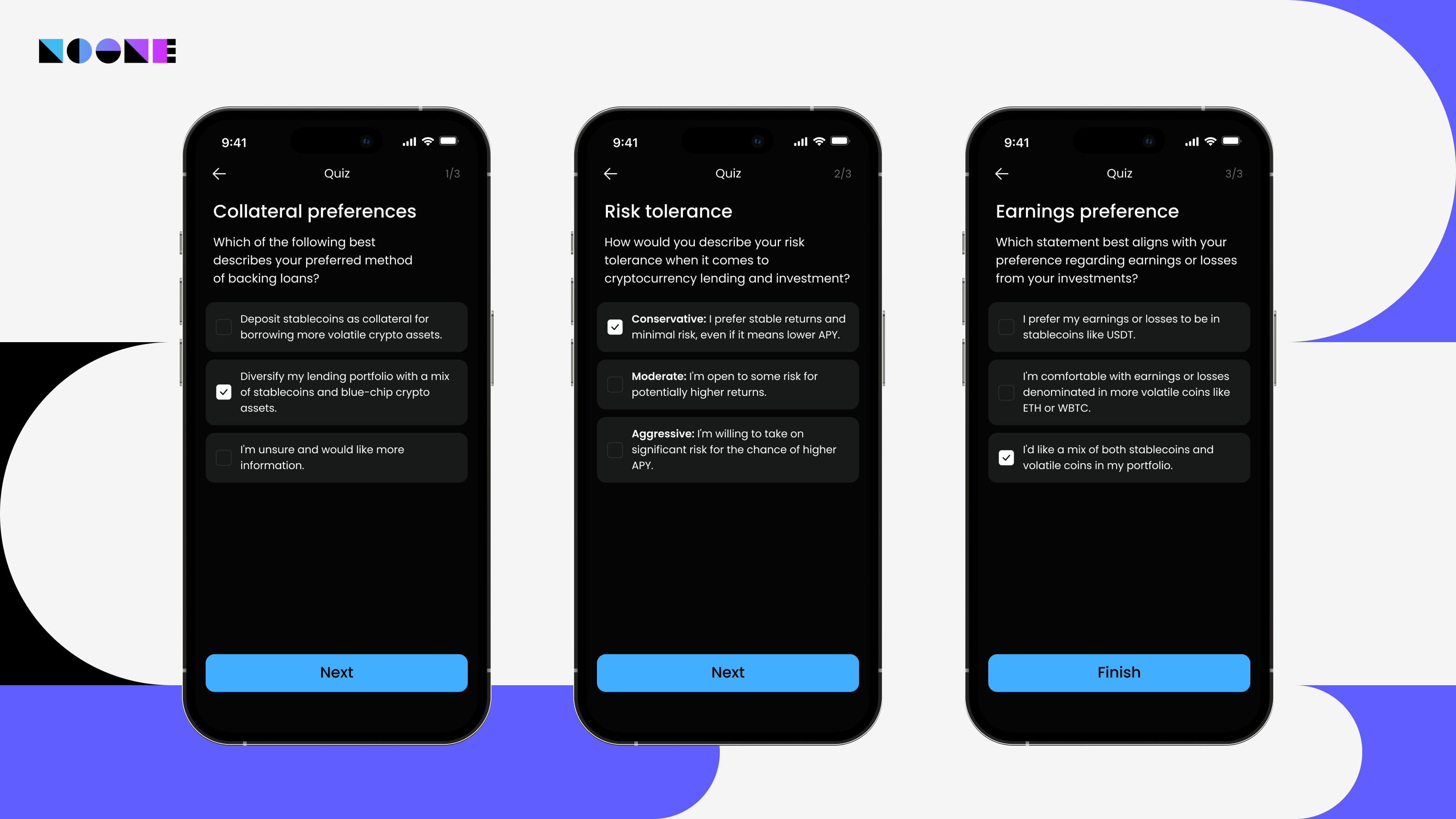 Public Profiles and Portfolios
Our app can be tailored to introduce social features, creating a network within your ecosystem. Alice would have the ability to transparently share her lending portfolio to become an influencer.
For Bob, this feature provides a unique opportunity to explore other borrowers' strategies, including their risk ratings and gains, allowing him to make informed borrowing decisions.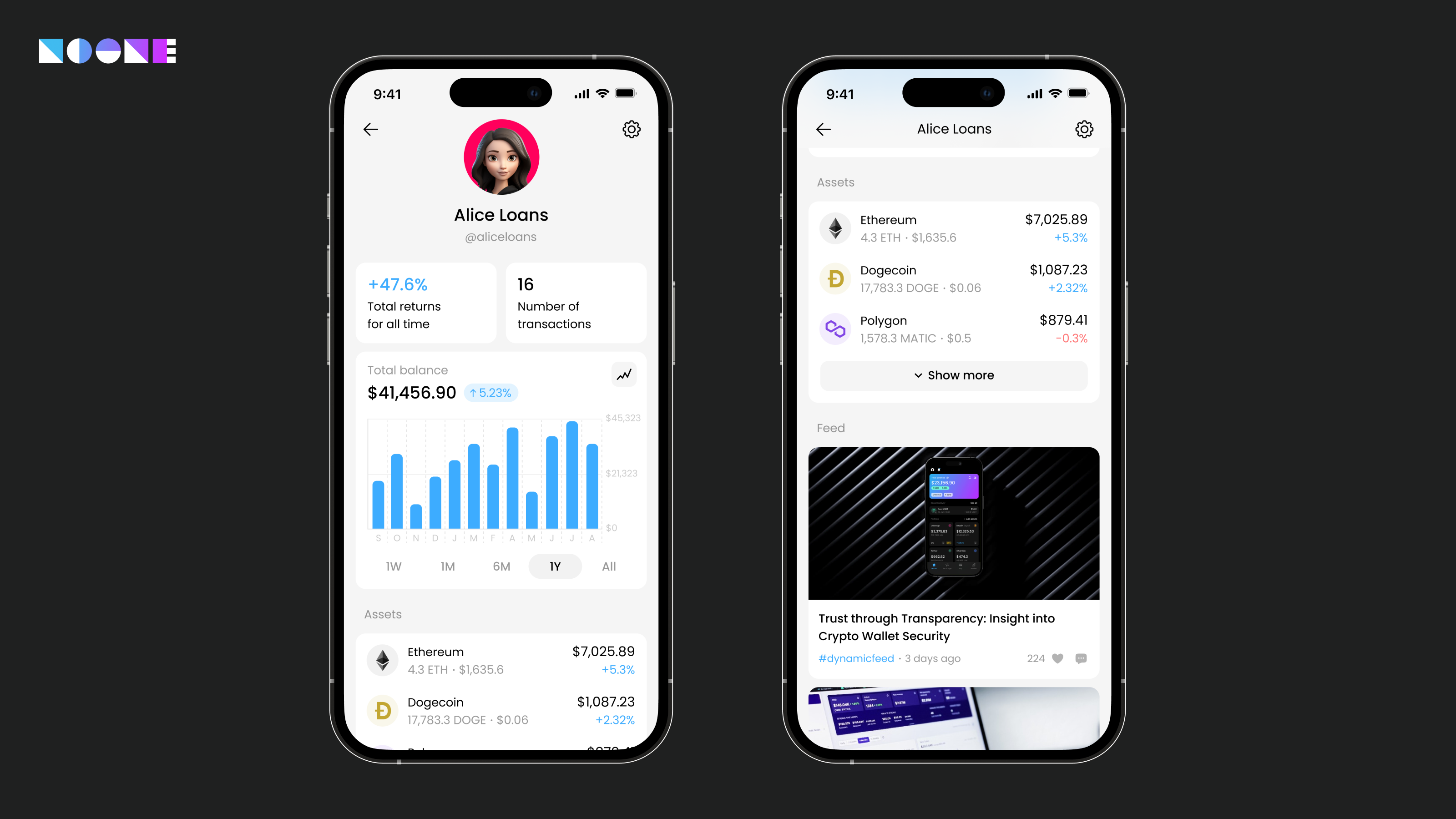 Analytics
As Bob and Alice evaluate their options, our APY analytics empower them to compare the expected returns of various assets and assess their risk and volatility ratings. Armed with this information, Bob can fine-tune his borrowing strategy to optimize his trading gains, while Alice benefits from a consolidated view of her loans, simplifying her financial management.
Moreover, our wallet can be customized to offer widgets that allow users to create their own dashboards. These widgets include tools like portfolio breakdown, risk level assessment, portfolio value over time, current gas fee, DeFi TVL, ETH price, and anything else that comes to mind. We can also include a 'Portfolio Snapshot' feature that captures the value of a user's portfolio at the time a position is opened, aiding with analytics and simplifying tax reporting for your users.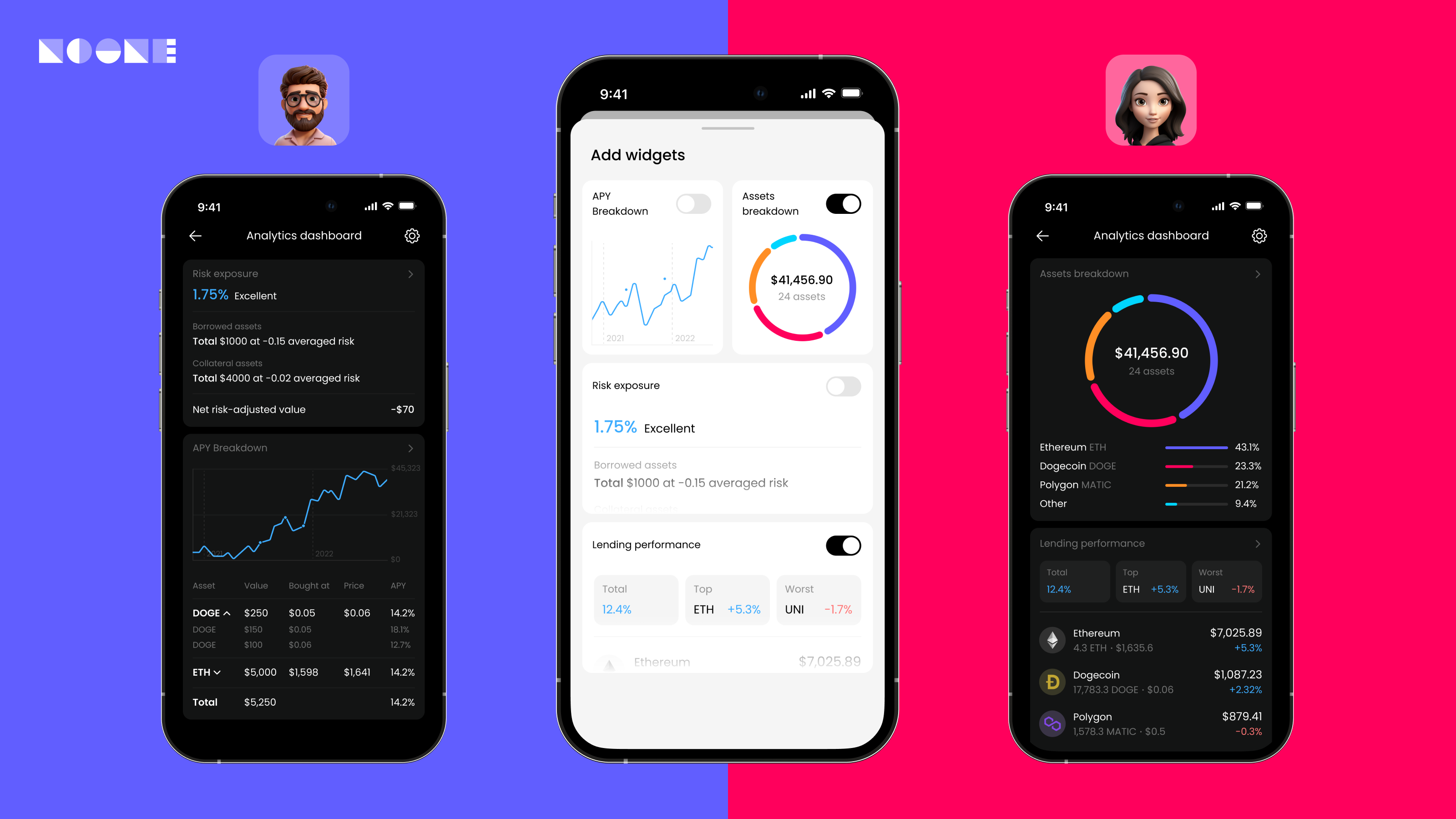 Risk Rating
Whether borrowing, lending, or a bit of both, users must have a clear measure of their current and potential risk exposure to make informed decisions.
Our team can design a comprehensive risk rating system that would assess risk factors such as collateral type and market volatility. This empowers both Alice and Bob to make informed lending and borrowing decisions that align with their risk tolerance. Additionally, our solution would provide interest accrual and payment tracking, offering users a clear overview of their financial transactions.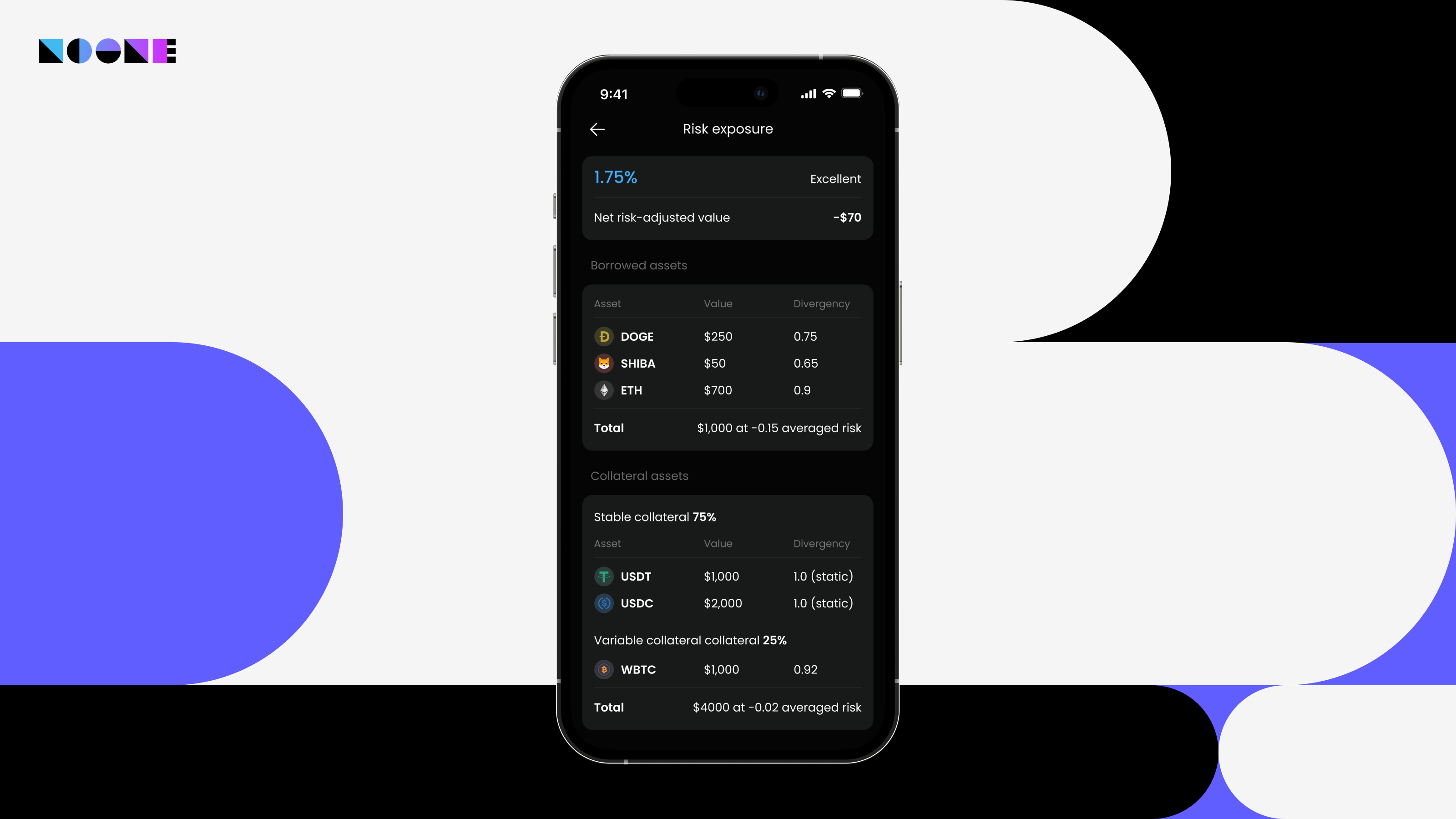 Smart Gas
In addition to providing insights into historical performance and projected returns, our platform introduces a "smart" gas option. This feature allows Bob to react swiftly to market dips by prioritizing gas expenditure for collateral addition or loan acquisition. In addition to standard speed options like slow, normal, or fast, we offer an ultra fast option where your gas fee competes for priority inclusion in the next block.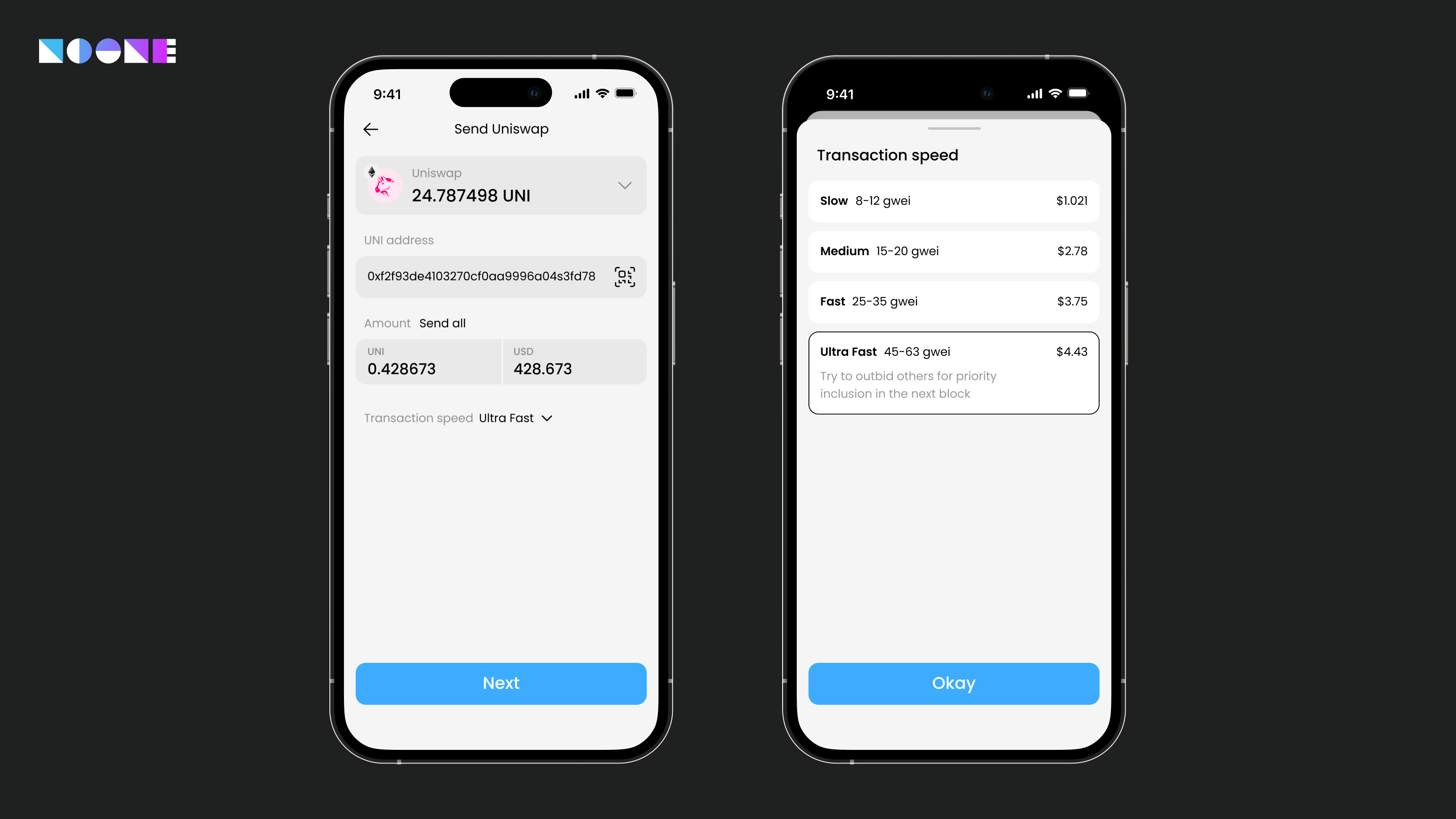 Push Notifications
Real-time notifications will keep Alice and Bob informed about market trends, changes in borrowing or lending terms, and shifts in their risk ratings. Whether Alice wants to adjust her lending portfolio or Bob needs to react swiftly to a trading opportunity, the push notifications provide timely information for confident decisions.
For instance, Bob can receive an alert if his debt-to-collateral rating dips below 110%, ensuring he can take immediate action. Similarly, Alice can be notified if her variable APY has been under 5% for a week or more, allowing her to make informed adjustments to her lending strategy.
Moreover, we can feature a notification center where users can track, manage, and act upon critical information efficiently, enhancing their overall experience with your platform.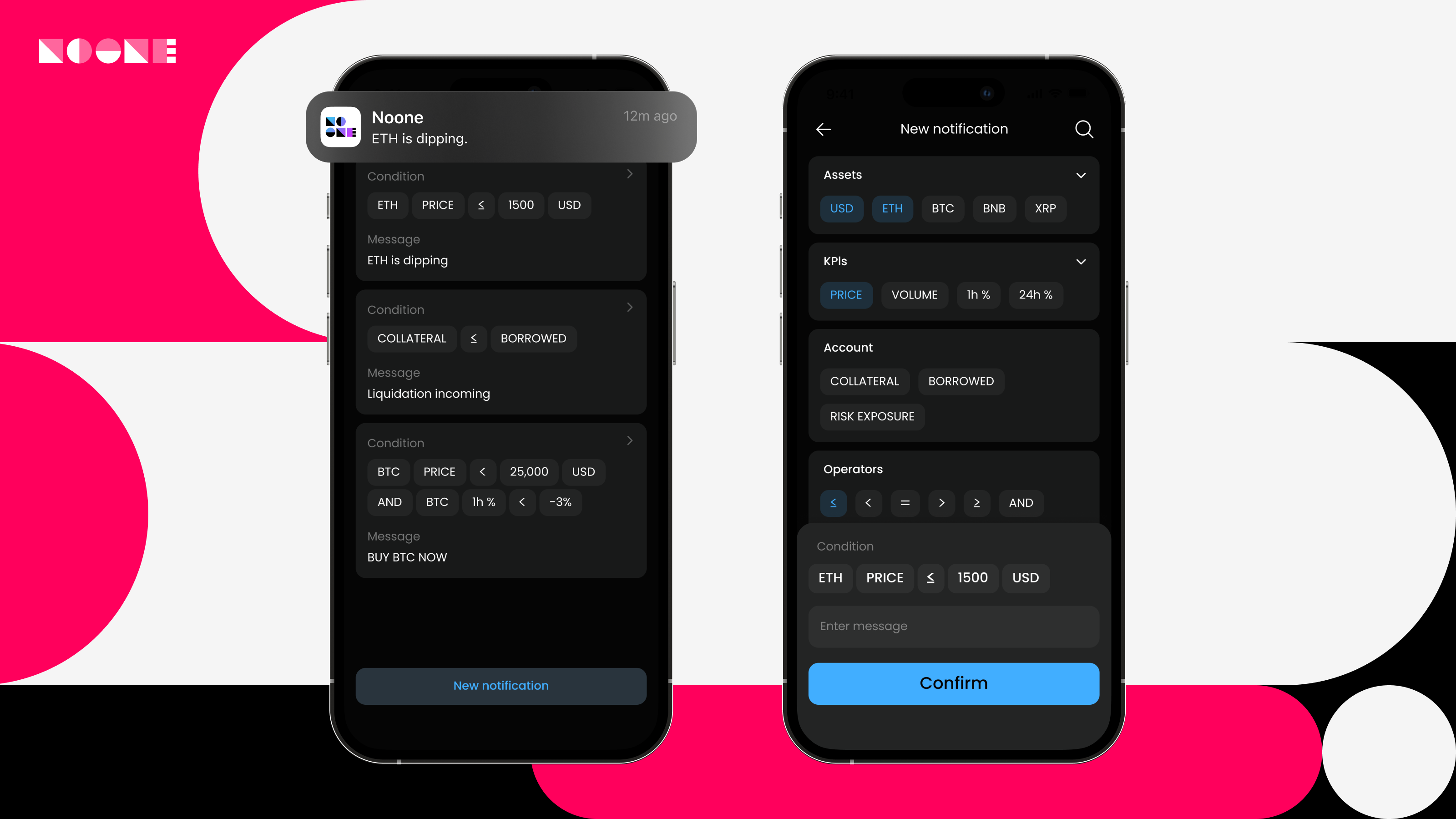 Business Impact
💎 Enhanced User Trust
With clear risk ratings, APY insights, and real-time updates, users like Alice and Bob feel more confident engaging in borrowing and lending activities. This heightened trust leads to increased participation and growth on the platform.
📊 Data-Driven Engagement
The token efficiency breakdown and APY analytics tools engage users by offering data-driven insights. This engagement translates to more active participation, driving up transaction frequency and benefiting the platform's transaction volume.
🛸 Anonymous Data Collection
With public portfolios and quizzes, we can gather valuable insights about user preferences regarding various crypto assets without compromising their privacy. This information enables us to gain a deeper understanding of the assets your users prefer, enhancing the platform's offerings and tailoring the user experience to their individual preferences.
🔮 Informed Decision-Making
The combined features empower users to make better-informed decisions tailored to their individual goals. Whether it's Alice's lending strategy or Bob's borrowing choices, the platform fosters an environment of strategic decision-making, subconsciously linking trading success to your platform.
If you're interested in exploring these personalized features further or considering custom wallet development to enhance your cryptocurrency lending and investment platform, we invite you to reach out to us. Our team is ready to bring your ideas to life!
Was this article helpful?
We're glad this article helped.
Thanks for letting us know.